The Home Closing Process - How Long Does It Take? February 2, 2017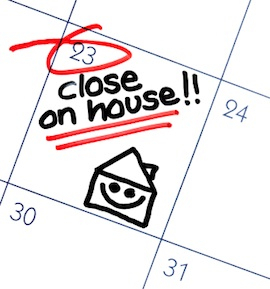 If you are not careful, the home closing process might take longer than you think, and quite possibly drag on longer than you had hoped for, but there are ways to avoid problems. For example, right after getting a purchase offer accepted, the next question home buyers want to know is how long will it take for the home to close. Unless the buyers are paying all cash for the home, it is the buyer's lender who will determine the length of time required to process the loan and close.
Which means the lender plays an important role that cannot be overlooked.
A buyer and seller can agree to an earlier closing date in the purchase contract, but if the lender can't perform during that time window, it doesn't really matter which date is selected, because it's not going to close on the date the buyer and seller specify. It will close when the lender is ready to close. Further, not every lender treasures expediency.
The Escrow Closing Process
Depending on where you live, any number of entities can handle the closing process. Let's discuss a few. The closing agent could be an escrow officer, a closer, the title company or a real estate lawyer.
Closing processes can vary widely even within the same state. In California, for example, the escrow process is different in northern California versus southern California. The primary difference between the two is escrow instructions are drawn and signed on the front end (shortly after offer acceptance) in southern Cal and on the back end (just before closing) in northern Cal.
Before any escrow can close, however, all the terms of the purchase contract must be met; then the seller deposits the deed and the buyer deposits the funds. Here are sample types of conditions required in California. Your state closing process may vary.
Fully executed purchase agreement and addendums.
Deposit of earnest money deposit.
Home inspection or waiver.
Fulfillment of seller obligations such as submission of pest inspection report and / or completion, roof certification, home warranty, preliminary title policy, beneficiary demand receipt, repairs, if any, according to the Request for Repairs.
Completion of buyer inspections, including release of contingencies, if demanded.
Buyer's final walk-through inspection or waiver.
Appraisal of property by lender's appraiser.
Lender's loan approval and satisfaction of loan conditions by buyer such as depositing evidence of a homeowner insurance policy.
Seller's and Buyer's signed escrow instructions.
Seller's signed and notarized deed conveying title.
Buyer's signed and notarized deed of trust and executed promissory note.
Buyer's signatures on all loan documents.
Deposit of buyer's funds from lender.
Deposit of balance of buyer's down payment and buyer's closing costs.
How Long Does a Home Closing Take?
Buyers who have received loan preapproval versus loan pre-qualification are often in a position to close sooner.
The preapproval process involves verification of certain items upfront, before signing the purchase contract, moving the borrower a few steps closer to closing.
If a lender has verified the borrower's employment, bank accounts and credit report, closing can take place as quickly as underwriters can process the paperwork and review the appraisal, generally within a week or two. However, if a document is missing from the file such as a preliminary title report or a seller's condition of sale, the closing may be delayed.
Most federally related mortgage loans can close within 30 days. Special first-time home buyer programs, particularly those involving help with the buyer's down payment, might take 35 to 45 days to close. These special loans typically require approval from two underwriting processes.
On the other hand, complying with TRID guidelines can sometimes slow down the process because the entities that are working together have no pre-existing relationship.
Home Closing Delays
The biggest problems often occur after the file is submitted to the underwriter. Loan officers are generally familiar with underwriting guidelines; however, they can't always predict an underwriter's response. Each underwriter is unique.
Little is worse for buyers than sitting on boxes containing every valuable they own, waiting for movers and not knowing if their loan will be approved by an underwriter. The last few days of closing can be very suspenseful.
Here are common problems that can delay or prevent closing, many of which, it pains me to say, should have been addressed prior to submission to an underwriter, but sometimes the ball gets dropped:
Low appraisal or the underwriter orders a review appraisal that does not match the first appraisal.
Additional debt found on the buyer's updated credit report.
Mistakes noted in the buyer's credit report.
New liens or judgments filed against the buyer or seller upon title update.
Clouds on title.
Marital status change for buyer or seller.
Required updated bank statements or financial documents.
Insurance information missing.
Expired loan or program commitment.
If the purchase contract does not contain a provision that makes closing contingent upon loan approval, the buyer's earnest money deposit could be at risk if the loan is not approved and the transaction does not close.